Oculus

Oculus GO VR Headset - 64GB
Overview
Oculus Go is the easiest way to jump into virtual reality. For the first time, Oculus brings you a truly standalone VR headsetwith no additional devices required while in VR. Oculus Go is portable, comfortable, and easy to use. Just put it on, switch it on, and watch a movie on a 180" screen, catch a concert from the first row, play a game, or hang out with friends.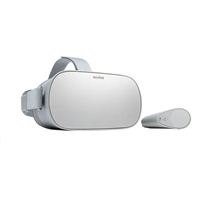 Oculus GO VR Headset - 64GB
Usually ships in 1-3 business days.