Spracht

Spracht ZuM 350 Stereo 2.5/ 3.5 mm Headset - Black
Overview
ZuM 2.5/3.5 mm pin Universal headset is designed specifically for mobile phones, tablets and computers, and the large installed base of Deskphone-Handsets with Audio Jack Headset ports. Combined with a noise canceling microphone, they deliver high quality audio. The 40mm speaker provides a powerful sound output. Both 3.5mm and 2.5 mm Audio Jack Pins are included for universal compatibility. Comfortable and bendable over-the-head headband with a bendable microphone boom. Professional quality materials, such as leatherette ear cushion, for durability and comfort.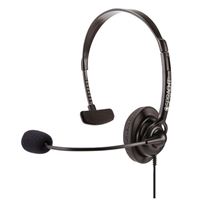 Spracht ZuM 350 Stereo 2.5/ 3.5 mm Headset - Black
Usually ships in 1-3 business days.