Midland

Midland T51 X-Talker 28-Mile 22-Channel 2-Way Radios - 3 Pack
Overview
Clear Reception. Clear Transmission. Clear Sound Quality. X-TALKER T51 three-pack of two-way radios have up to a 28-mile range and features 22 Channels (38 Privacy Codes), Channel Scan, and our legendary Weather Alert technology.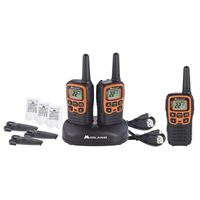 Midland T51 X-Talker 28-Mile 22-Channel 2-Way Radios - 3 Pack
Usually ships in 1-3 business days.