Acer Acer Aspire TC-885-UR19 Desktop Computer

Intel Core i5+ 8400 Processor 2.8GHz; 4GB DDR4 RAM; 16GB Intel Optane Memory; 1TB 7,200 Hard Drive
Overview
Intel Core i5+ 8400 Processor 2.8GHz
4GB DDR4 RAM
16GB Intel Optane Memory
1TB 7,200 Hard Drive
Intel UHD Graphics 630
Microsoft Windows 10 Home
DVD-RW Drive
Secure Digital Card Reader
10/100/1000 Network
802.11ac Wireless
Bluetooth 5.0
Display Not Included
The Aspire TC-885-UR19 is the perfect PC to tackle any task. From basic computing to multimedia entertainment, its a robust hub for your every computing need. Featuring the new Intel Optane memory, this sophisticated PC provides a fast, smooth, and amazingly responsive computing experience without compromising storage capacity. Easily expandable and with remarkable performance, the Aspire TC-885-UR19 desktop is the perfect partner when it comes to demanding tasks like video editing and compiling photo albums. And it offers front-panel media access so you can easily connect to your digital devices!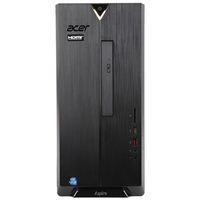 Acer Aspire TC-885-UR19 Desktop Computer

Intel Core i5+ 8400 Processor 2.8GHz; 4GB DDR4 RAM; 16GB Intel Optane Memory; 1TB 7,200 Hard Drive
Usually ships in 1-3 business days.