Samsung Samsung Galaxy S9 Plus Unlocked 4G LTE - Black Smartphone

GSM/CDMA; 6 GB RAM/64 GB Storage; 6.2" AMOLED Display; 12 Megapixel Camera
Overview
GSM/CDMA
6 GB RAM/64 GB Storage
6.2" AMOLED Display
12 Megapixel Camera
Android 8.0
Single Nano SIM
See the light with the Samsung Galaxy S9+ 64GB Smartphone. Samsung's Dual Aperture feature is the hallmark of the S9+, automatically switching based on lighting conditions. Built into the one of the 12MP rear cameras, Dual Aperture switches to F2.4 mode in daylight to take sharp and beautiful images and in low-light situations it goes to F1.5 mode to let more light in for brighter and clearer nighttime photos.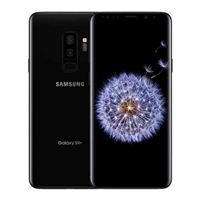 Samsung Galaxy S9 Plus Unlocked 4G LTE - Black Smartphone

GSM/CDMA; 6 GB RAM/64 GB Storage; 6.2" AMOLED Display; 12 Megapixel Camera
Usually ships in 1-3 business days.