Samsung Samsung Galaxy S9 Unlocked 4G LTE - Black Smartphone

GSM/CDMA; 4 GB RAM/64 GB Storage; 5.8" AMOLED Display; 12 Megapixel Camera
Overview
GSM/CDMA
4 GB RAM/64 GB Storage
5.8" AMOLED Display
12 Megapixel Camera
Android 8.0
Single Nano SIM
Choose a carrier on your own time and take breathtaking high-quality shots with this unlocked Samsung Galaxy S9 in black. Pro Mode manual adjustments deliver professional photos frame by frame, while the dual aperture lens shoots clear in any lighting. Easy access from Iris Scanner and Facial Recognition opens your phone with a look. With included augmented Reality that does everything from translating text to turning users into emojis, this unlocked Samsung Galaxy S9 brings imagination to life.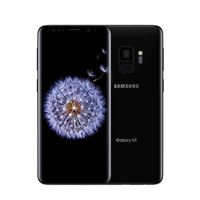 Samsung Galaxy S9 Unlocked 4G LTE - Black Smartphone

GSM/CDMA; 4 GB RAM/64 GB Storage; 5.8" AMOLED Display; 12 Megapixel Camera
Usually ships in 1-3 business days.