Papago

Papago GoSafe S780 Full HD 1080p Sony Starvis/Exmor Imaging sensor Dual Channel Dash Cam w/ 16GB microSD card
Overview
In need of a great dash camera that can record clearly in low light? The new GoSafe S780 is perfect for you. With its revolutionary SONY Starvis sensor, the S780 is capable of delivering some of the best performance in low-light situations. It's also a dual-channel system capable of recording both front and back at the same time. The rear camera is IPX7 waterproof certified and features the SONY Exmor sensor. Like most Papago dash cams, the GoSafe S780 has multiple recording modes, including Loop Recording, Motion Detection, and Monitor Mode. The S780 is also capable of supporting up to a 128 GB MicroSD card for extended recording time. The S780 has you covered no matter the time of day.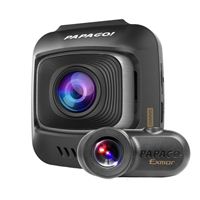 Papago GoSafe S780 Full HD 1080p Sony Starvis/Exmor Imaging sensor Dual Channel Dash Cam w/ 16GB microSD card
Usually ships in 5-7 business days.