Tough Tested

Tough Tested USB 2.0 (Type-A) Male to USB 2.0 (Type-C) Male Weave Cable w/ Slim Tip - Brown
Overview
PET polymer woven jacket for extreme durability. Cable has extended strain relief, and slim aluminum tip to fit most protective cases. PET polymer jacket is chemical, heat, and abrasion resistant. Charge + Sync your USB Type-C devices such as Google Pixel, Chromebook, LG V20, G5, MacBook Pro, GoPro Hero 5 from USB-A power sources.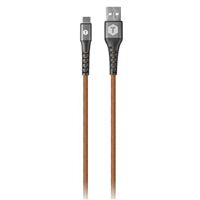 Tough Tested USB 2.0 (Type-A) Male to USB 2.0 (Type-C) Male Weave Cable w/ Slim Tip - Brown
Usually ships in 5-7 business days.