Rite In The Rain

Rite In The Rain Blue Stapled Mini Waterproof Notebook - Pack 3
Overview
The Rite in the Rain Staple-Bound Notebook easily tucks into a pocket and fiercely defends your notes from weather and wear. These books use our patented water-resistant and archival-grade paper to protect against the years and the elements. This little pocket book travels anywhere and survives any weather.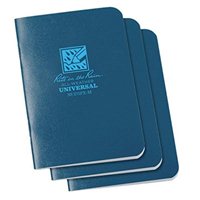 Rite In The Rain Blue Stapled Mini Waterproof Notebook - Pack 3
Usually ships in 5-7 business days.