Pimoroni

Pimoroni Raspberry Pi 3 B+ Starter Kit
Overview
Our getting started guide shows you, in a really friendly and straightforward way, how to get everything set up in a jiffy. You'll learn how to protect your Pi from bumps and bruises in our Pibow case, how to add the heat sink, the microSD card, and the Blinkt! rainbow light. Learn how to code your twinkly Blinkt! using Python, and even make a (SQUEE!) rainbow animation with it.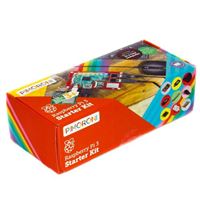 Pimoroni Raspberry Pi 3 B+ Starter Kit
Usually ships in 1-3 business days.