ION Audio

ION Audio Audio IPA80S Stadium Portable Speaker with Bluetooth
Overview
Whether before the game or a fun gathering in yourbackyard, you can count on Stadium to make any event awinning occasion with its great sound. With its 2-way speaker system and 50-watt dynamic power amplifier, your music will always sound its best. You can stream music from any Bluetooth device, enjoy Stadium's built-in AM/FM radio, or create your own memories with the included microphone.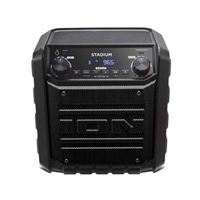 ION Audio Audio IPA80S Stadium Portable Speaker with Bluetooth
Usually ships in 5-7 business days.