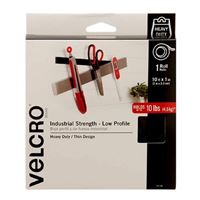 Velcro

Velcro Industrial Strength Low Profile 1 Roll 10' x 1" - Black
Overview
Velcro Ultra-Mate Adhesive Tape provides a strong hold between smooth surfaces. The strips are UV-resistant and can be used on rough surfaces such as concrete and some types of brick. This titanium adhesive tape comes in a 10' x 1" roll for extended use. It's designed for use indoors or outdoors respectively. This tape is made from nylon and will offer a solid hold between the two different materials. It can be used in place of nails, screws and epoxy for a mess-free installation. Use it to put up acoustic tiles, to hang up a lightweight rack on one of your walls, to put up outdoor lights and for many other random tasks around the house or office. The product comes with a hook-and-loop side, and each has adhesive on the other side for simple fastening. Peel back the non-stick coating to lock the strips into place, and they can then be used to attach and detach to one another.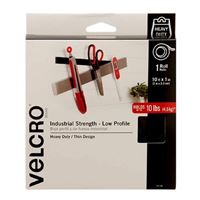 Velcro Industrial Strength Low Profile 1 Roll 10' x 1" - Black
Usually ships in 5-7 business days.