SanDisk

SanDisk Extreme Portable 250GB SSD USB 3.1 Type-C External Solid State Drive
Overview
Designed for saving and editing high-resolution photos and videos, the 250GB Extreme Portable USB 3.1 Type-C External SSD from SanDisk provides users with up to 250GB of storage for their creative content work, as well as a 10 Gb/s USB 3.1 Type-C interface, which is also known as USB 3.1 Gen 2 and delivers read speeds of up to 550 MB/s. Additionally, this SSD is IP-55 rated and features resistance against water, dust, and shock. It can withstand a water flow of up to 30 kPA for 3 minutes, 1500 g of shock, and 5 gRMS of vibration @ 10-2000 Hz. It can also withstand drops of up to 6.5' on a concrete floor and temperature extremes, with operating temperatures ranging from 32 to 113F and storage temperatures ranging from -4 to 158F.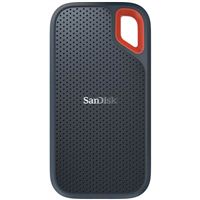 SanDisk Extreme Portable 250GB SSD USB 3.1 Type-C External Solid State Drive
Usually ships in 1-3 business days.