Adafruit Industries

Adafruit Industries USB LiIon/LiPoly Charger
Overview
This is a Lithium Ion and Lithium Polymer battery charger based on the MCP73833. It uses a USB mini-B for connection to any computer or 'USB wall adapter'. Charging is performed in three stages: first a preconditioning charge, then a constant-current fast charge and finally a constant-voltage trickle charge to keep the battery topped-up. The fast-charge current is 500mA by default, but is easily adjustable from 100mA up to 1000mA by soldering a through-hole resistor on-board.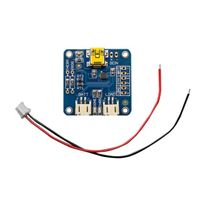 Adafruit Industries USB LiIon/LiPoly Charger
Usually ships in 1-3 business days.