Adafruit Industries

Adafruit Industries Perma-Proto Half-sized Breadboard PCB - 3 Pack
Overview
Customers have asked us to carry basic perf-board, but we never liked the look of most basic perf: its always crummy quality, with pads that flake off and no labeling. Then we thought about how people actually prototype - usually starting with a solderless breadboard and then transferring the parts to a more permanent PCB. That's when we realized what people would really like is a proto board that makes it easy!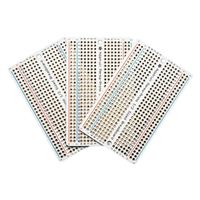 Adafruit Industries Perma-Proto Half-sized Breadboard PCB - 3 Pack
Usually ships in 5-7 business days.