Adafruit Industries

Adafruit Industries FadeCandy - Dithering USB-Controlled Driver for RGB NeoPixels
Overview
A new collaboration between Adafruit & Micah from Scanlime, we are excited to introduce Fadecandy, a NeoPixel driver with built in dithering, that can be controlled over USB. Fadecandy is not just hardware! It is a kit of both hardware and software parts that make LED art projects easier to build and better-looking so sculptors and makers and multimedia artists can concentrate on beautiful things instead of reinventing the wheel. It's an easy way to get started and an advanced tool for professionals.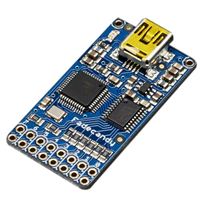 Adafruit Industries FadeCandy - Dithering USB-Controlled Driver for RGB NeoPixels
Usually ships in 1-3 business days.