Adafruit Industries

Adafruit Industries 64x32 RGB LED Matrix - 3mm Pitch
Overview
This panel is a lot like our 4mm Grid 64x32 RGB LED matrix panel, but the LEDs on this one are a little closer together (a 3mm pitch) so you won't have to stand as far away to appreciate it. It's made to look good indoors, even with a wide-angle view (160 degrees) and look great in ambient light. If you want a wider pitch for a farther viewing distance, check out our 6mm pitch 64x32 RGB LED Matrix or our 5mm pitch 64x32 RGB LED Matrix.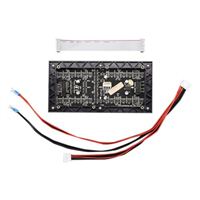 Adafruit Industries 64x32 RGB LED Matrix - 3mm Pitch
Usually ships in 1-3 business days.