Adafruit Industries

Adafruit Industries Audio FX WAV/OGG 2MB Flash Trigger Mini Sound Board
Overview
Don't get me wrong, I love the MP3 Music Maker shield and the Audio FX Sound Board + 2x2W Amp. And our Wave Shield is a dependable classic. But you either need an Arduino or they might be a little too big and powerful for your needs. So after a lot of engineering and tinkering we've come out with the Adafruit MINI Sound Board, the fastest way to add audio effects to a project, with a small footprint. We think this is the best sound board for props and costumes!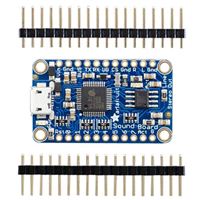 Adafruit Industries Audio FX WAV/OGG 2MB Flash Trigger Mini Sound Board
Usually ships in 1-3 business days.