Adafruit Industries

Adafruit Industries NeoPixel 1m Digital RGBW LED Strip - Black
Overview
These NeoPixels now have 4 LEDs in them (red, green, blue and white) for excellent lighting effects. This is the 144 LED/m RGBW strip with a clear casing and Black Flex PCB! We also have RGBW NeoPixel strips of 30 LED/m and 60 LED/m. The NeoPixel is 'split', one half is the RGB you know and love, the other half is a white LED with a yellow phosphor. Unlit, it resembles an egg yolk. Lit up these are insanely bright (like ow my eye hurts) and can be controlled with 8-bit PWM per channel (8 x 4 channels = 32-bit color overall). Great for adding lots of colorful white dots to your project!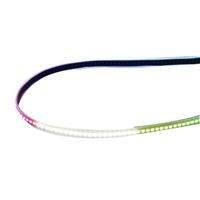 Adafruit Industries NeoPixel 1m Digital RGBW LED Strip - Black
Usually ships in 1-3 business days.