Adafruit Industries

Adafruit Industries Analog Mini Thumbstick Breakout Board
Overview
We designed the breakout so that you can attach the thumbstick to a panel easily. A 4-pin 0.1" spaced header makes it easy to connect either in a perfboard/breadboard setting or free wiring, with header on both siders it is mechanically stable. You'll need to solder a thumbstick into the PCB using a soldering iron and solder, but its very simple and will only take a minute.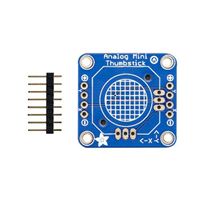 Adafruit Industries Analog Mini Thumbstick Breakout Board
Usually ships in 1-3 business days.