Adafruit Industries

Adafruit Industries Small Alligator Clip to Male Jumper Wire Bundle - 12 Pieces
Overview
For bread-boarding with unusual non-header-friendly surfaces, these cables will be your best friends! No longer will you have long strands of alligator clips that are grabbing little wires. These compact jumper cables have a premium male header on one end, and a grippy mini alligator clip on the other.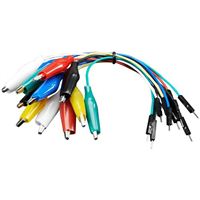 Adafruit Industries Small Alligator Clip to Male Jumper Wire Bundle - 12 Pieces
Usually ships in 1-3 business days.