Adafruit Industries

Adafruit Industries 1.3" Sharp Memory Display Breakout
Overview
The 1.3" 168x144 SHARP Memory LCD display is a cross between an eInk (e-paper) display and an LCD. The display is 'write only' which means that it only needs 3 pins to send data. However, the downside of a write-only display is that the entire 168x144 bits (3 KB) must be buffered by the microcontroller driver. That means you cannot use this with an ATmega328 (e.g. Arduino UNO) or ATmega32u4 (Feather 32u4, etc). You must use a high-RAM chip such as ATSAMD21 (Feather M0), Teensy 3, ESP8266, ESP32, etc. On those chips, this display works great and looks wonderful.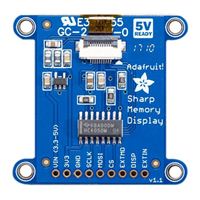 Adafruit Industries 1.3" Sharp Memory Display Breakout
Usually ships in 1-3 business days.