AOC

AOC i1659fwux Full HD 60Hz USB 3.0 Portable LED Monitor
Overview
Designed for on-the-go use, the bus powered I1659FWUX 15.6" 16:9 USB Powered IPS Monitor from AOC features plug-and-play connectivity along with an ultra-slim, lightweight construction to take it with you virtually anywhere you go. The display comes equipped with a foldable flexi-stand allowing it to be viewed in either landscape or portrait modes to suit a variety of content.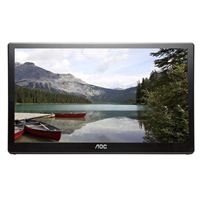 AOC i1659fwux Full HD 60Hz USB 3.0 Portable LED Monitor
Usually ships in 1-3 business days.