LG

LG 27GK750F-B 27" Full HD 240Hz HDMI DP FreeSync LED Gaming Monitor
Overview
Games are smoother and more thrilling at a higher refresh rate, and this 240Hz monitor can refresh the image on screen up to an astounding 240 times per second. Enjoy high-speed gaming with virtually no motion blur or stuttering. 1ms motion blur reduction allows gamers to enjoy the precision and accuracy needed to play at a high level. With a response time that is virtually 1ms, blurring and ghosting are dramatically reduced to make the in-game action smoother and gamers reactions more precise.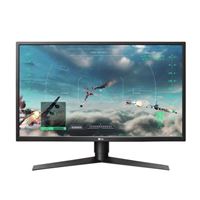 LG 27GK750F-B 27" Full HD 240Hz HDMI DP FreeSync LED Gaming Monitor
Usually ships in 1-3 business days.