Interworks Unlimited

Interworks Unlimited Emio Switch Pad for Nintendo Switch
Overview
The Charge Dock for the Switch console makes your gaming experience easier and more fun! Thanks to the Charge Dock, you will never have to sacrifice your gameplay to charge your console again. The Charge Dock is compatible with the Switch, Pro Controller, and Switch Pad. There's no need to worry about unsightly tangled cables when you can charge your Switch, Pro Controller, or Switch Pad on one device; charging your Switch and accessories has never been easier. The Charge Dock is also a great way to keep your Switch and accessories organized! The unique design allows for the Switch and Pro Controller to fit snugly in its specific USB-C port. The Charge Dock is not compatible with third party controllers.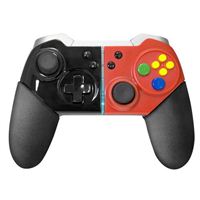 Interworks Unlimited Emio Switch Pad for Nintendo Switch
Usually ships in 1-3 business days.