Kensington

Kensington SD5200T Thunderbolt 3 Docking Station
Overview
For over 35 years, Kensington has been The Professionals Choice for desktop productivity solutions. Continuously supporting the most advanced technology, Kensington has engineered the game-changing SD5200T Thunderbolt 3 Docking Station for Windows and Mac. Whether youre a video editor, graphic designer, content creator, gamer, or just someone who wants to simplify a 4K workspace, you get more"more speed, more pixels, more power, and more possibilities. Accommodating a single Thunderbolt 3 cable carrying up to 40Gbps of data, which is enough bandwidth to simultaneously run two 4K monitors at 60fps, while also providing up to 85W of laptop charging, the SD5200T Thunderbolt 3 Docking Station is a power users solution for hyper-productivity.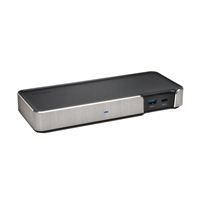 Kensington SD5200T Thunderbolt 3 Docking Station
Usually ships in 1-3 business days.