Seasonic USA

Seasonic USA FOCUS GM-650, 650W 80+ Gold, Semi-Modular, Fits All ATX Systems, Fan Control in Silent and Cooling Mode, 7 Year Warranty, Perfect Power Supply for Gaming and Various Application
Overview
The newly upgraded FOCUS GM power supplies are the successor to the FOCUS Series. FOCUS series' affordability, reliability and efficiency made it instantly became the top seller in the power supply market after its launch in 2017. Besides the upgrade in performance and compatibility, the PSU housing, its packaging and the series naming are also updated to be in line with the concept of the OneSeasonic Initiative.
Affordability, Reliability And Efficiency: The FOCUS GM-650




Learn More about the Seasonic GX-Series
See Other Similar Power Supplies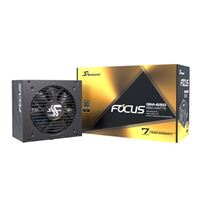 Seasonic USA FOCUS GM-650, 650W 80+ Gold, Semi-Modular, Fits All ATX Systems, Fan Control in Silent and Cooling Mode, 7 Year Warranty, Perfect Power Supply for Gaming and Various Application
Usually ships in 5-7 business days.