Raspberry Pi

Raspberry Pi Official Raspberry Pi Beginner Kit
Overview
The official Raspberry Pi Beginner book comes with all the components to start with the Raspberry Pi. In the magazine is a Raspberry Pi Zero W, the official Raspberry Pi case (with 3 different cover plates), 8GB Micro SD card with preinstalled NOOBS and not forgetting USB and HDMI adapter. The accompanying 116-page book is packed with beginner manuals so you can easily use your new Raspberry Pi!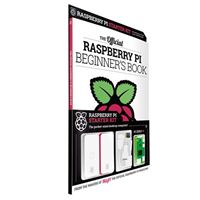 Raspberry Pi Official Raspberry Pi Beginner Kit
Usually ships in 1-3 business days.