EKWB

EKWB G 1/4" Straight Compression Fitting 6 Pack - Black
Overview
EK-HDC Fitting is a solid-tube compression fitting, designed for use with solid tubing such as Acrylic, Copper, Stainless Steel or any other type of compatible hard tube. EK-HDC Fitting is a more secure variant of the EK-HD Adapter fitting as it prevents solid tube to be pulled out of the fitting by compressing the rubber gasket underneath the ring.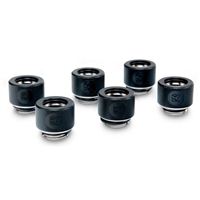 EKWB G 1/4" Straight Compression Fitting 6 Pack - Black
Usually ships in 1-3 business days.