FitBit

FitBit Charge HR Fitness Tracker Small - Black
Overview
Let your heart be your guide with Charge HR. Monitor heart rate automatically and continuously right on your wrist to accurately track calorie burn, maintain workout intensity, maximize training and optimize healthall without an uncomfortable chest strap.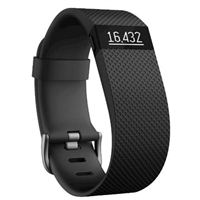 FitBit Charge HR Fitness Tracker Small - Black
Usually ships in 1-3 business days.