Logitech

Logitech Wireless Touch K400 Plus
Overview
The Logitech Wireless Touch K400 Plus enables laid-back control of your TV-connected computer. Watch video: browse the web and chat with friends from your couch. Feature Benefits A compact keyboard with integrated touchpad puts all your controls in a single device. Enjoy your entertainment without the clutter of multiple devices. A wireless range of 10m (33 ft) enables a responsive: uninterrupted connection in even the largest rooms. Watch video: stream music: connect with friends: browse web pages: and more without annoying delays or dropouts. The familiar key layout eliminates the learning curve. You already know how to use the K400 Plus. Your media interactions are enhanced with comfortable keys: easy-access volume controls: and an arrow-key layout that simplifies navigation. A second left-click button permits two-hand navigation and selection. Shortcuts simplify control for Android and Windows users.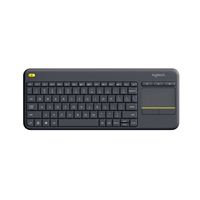 Logitech Wireless Touch K400 Plus
Usually ships in 5-7 business days.