Inland

Inland 2.4 A @ 5 VDC / 1 A @ 5 VDC Dual USB-A Car Charger - Blue
Overview
This product is a high-performance car charger with 5V/1A&2.4A output. Use your car to charge any devices (digital cameras, PDAs, mobile phones, USB accessories and more) that can rely on USB for power! This adapter plugs into your car's cigarette lighter jack to become a powered USB port. It is helpful in long time journey and convenient for business!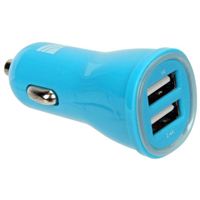 Inland 2.4 A @ 5 VDC / 1 A @ 5 VDC Dual USB-A Car Charger - Blue
Usually ships in 1-3 business days.