Amcrest Amcrest NV4108E-HS UltraHD PoE NVR

8 Channel; NO Pre-Installed HDD; 4k Resolution
Overview
8 Channel
NO Pre-Installed HDD
4k Resolution
Amcrest HD NVR technology transmits up to 8MP quality video over Ethernet, allowing for long-distance and cost-effective HD video transmission. The signal is transmitted at a maximum throughput of 80Mbps which eliminates latency and allows for real-time, highly reliable video security without loss or delay. The cameras connect directly to the NVR providing a painless, non-complex plug-and-play setup process and can be installed up to 300ft away. In addition, the HD NVR is smartphone compatible (iPhone, Android) as well as viewable over the internet using standard web-browsers.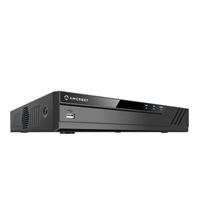 Amcrest NV4108E-HS UltraHD PoE NVR

8 Channel; NO Pre-Installed HDD; 4k Resolution
Usually ships in 5-7 business days.