KanexPro

KanexPro HDMI 4x1 Switcher w/ Digital Audio and 4K
Overview
The KanexPro 4x1 HDMI Switcher is a compact design HDMI switcher that allows connection to four Ultra HD or 1080p devices to one Ultra HD display with dedicated digital and stereo audio outputs. It supports resolutions up to 3840x2160 at 30p. Deep Color, 3DTV pass-through, and lossless audio formats such as LPCM 7.1, Dolby TrueHD, and DTS-HD Master Audio are also supported.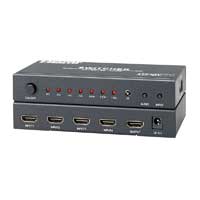 KanexPro HDMI 4x1 Switcher w/ Digital Audio and 4K
Usually ships in 1-3 business days.