Thermaltake

Thermaltake LUXA2 EnerGBar 65W Universal Notebook Charger
Overview
LUXA2 EnerGBar 65W Wall Type Universal Notebook Charger is a compact, slim, and lightweight power adapter, ideal for those who need a spare adapter for travel, or a replacement adapter for their current laptop. Compatible with 99% of laptop charging ports on the market, it features 10 interchangeable charging port connectors. The adapter comes in a sleek and minimalist design for portability and easy storage. Coupled with the latest in power technology, it provides high stability, reliability, power conversion efficiency, with over-current, over-voltage, over-temperature, and short-circuit protection for maximum safety.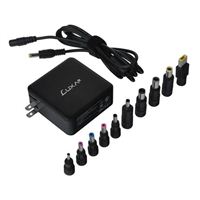 Thermaltake LUXA2 EnerGBar 65W Universal Notebook Charger
Usually ships in 5-7 business days.