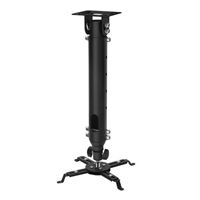 SIIG

SIIG Universal Height Adjustable Projector Ceiling Mount - Black
Overview
SIIGs Universal Height Adjustable Projector Ceiling Mount Black is high quality steel constructed ceiling mount designed to support projectors weighing up to 44 lbs. It comes with four mounting arms that can be extended and rotated individually to accommodate most projectors for maximum compatibility. Full motion capability allows quick and easy angle adjustment for optimal viewing comfort. Height adjustment feature enables you to make changes to the distance between the projector and the ceiling to suit your setting. Cable management system is also integrated to route and conceal cable to reduce cable clutter for a neat and clean installation. This versatile and durable universal height adjustable ceiling mount works great with most projectors on the market.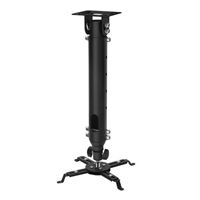 SIIG Universal Height Adjustable Projector Ceiling Mount - Black
Usually ships in 5-7 business days.