EKWB

EKWB M.2 NVMe Heatsink - Nickel
Overview
EK-M.2 NVMe Heatsink is a passive heatsink for M.2 NVMe Next Generation Form Factor SSDs. It is a much needed aesthetical and functional heatsink for many PC owners. It is not a secret that M.2 NVMe SSDs can overheat very easily and be subdued to thermal throttling, thus losing performance. The heatsink brings 7-30C improvement in SSDs temperatures, or even more with sufficient air flow. The EK-M.2 NVMe Heatsink is compatible with all single-sided type 2280 M.2 NVMe SSDs (22mm wide, 80mm long). Because the heatsink consists of a front and backplate as well, the compatibility is limited to M.2 (NGFF) connectors of 4.2mm height.
See Other NVMe Coolers and Heatsinks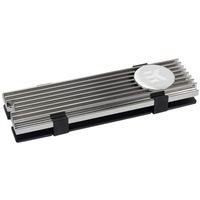 EKWB M.2 NVMe Heatsink - Nickel
Usually ships in 5-7 business days.