Eclipse Enterprise

Eclipse Enterprise Precision Screwdriver Tri-Point 000 (iPhone 7/8)
Overview
Tri-Point 0.6mm Y Type. AISI 8660 Chrome-Molybdenum Vanadium Steel. Satin finish. Rotational cap for easy screwing/unscrewing. Ergonomic non slip dual color TPR and Nylon handle for user comfort. Black anti corrosion tip. Repairing latest generation iPhones and Apple Watch.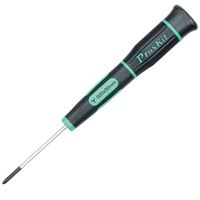 Eclipse Enterprise Precision Screwdriver Tri-Point 000 (iPhone 7/8)
Usually ships in 5-7 business days.