Eclipse Enterprise

Eclipse Enterprise QuikThru Crimper Kit
Overview
The QuikThru Crimp Tool and RJ45 Connectors make terminating your network cables a breeze. Simply feed your separated wire pairs through the connector and the guides will hold everything in place. Then with a simple squeeze the tool will crimp on your CAT5/5e (included) or CAT6 connector and trim off all excess wire.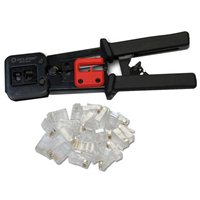 Eclipse Enterprise QuikThru Crimper Kit
Usually ships in 1-3 business days.