Pimoroni

Pimoroni Micro Dot pHAT - Green
Overview
An unashamedly old school LED matrix display board, made up of six LED matrices each 5x7 pixels (for an effective display area of 30x7) plus a decimal point, using the beautiful little Lite-On LTP-305 matrices. Use between 1 and 6 matrices in your choice of green and/or red. Perfect for building a retro scrolling message display, a tiny 30-band spectrum analyzer, or a retro clock.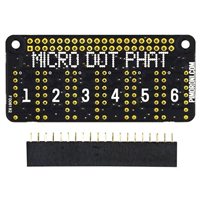 Pimoroni Micro Dot pHAT - Green
Usually ships in 5-7 business days.