Pimoroni

Pimoroni Four Letter pHAT
Overview
Four Letter pHAT has four 14-segment displays that you can use to display text, numbers, and a host of other characters. Its LEDs are a beautiful retro green, just like you old digital alarm clock. They're driven by the HT16K33 chip over I2C.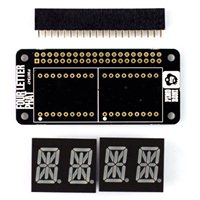 Pimoroni Four Letter pHAT
Usually ships in 5-7 business days.