Pimoroni

Pimoroni Pan-Tilt HAT
Overview
Pan-Tilt HAT lets you mount and control one of our pan-tilt modules right on top of your Raspberry Pi. The HAT and its on-board microcontroller let you independently drive the two servos (pan and tilt), as well as driving up to 24 regular LED (with PWM control) or NeoPixel RGB (or RGBW) LEDs. There's also a handy slot through which you can route the servo, LED, and camera cables. The module pans and tilts through 180 degrees in each axis.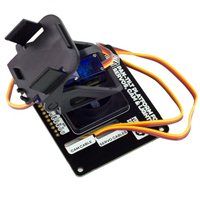 Pimoroni Pan-Tilt HAT
Usually ships in 1-3 business days.