Pimoroni

Pimoroni Unicorn pHAT
Overview
Sporting a matrix of 32 (8 x 4) RGB LEDs and powered directly from the Pi this is the most compact pocket aurora available. Unicorn pHAT provides a wash of controllable colour that is ideal for mood-lighting, pixel art, persistence of vision effects, status indications, or just blasting colour into your surroundings.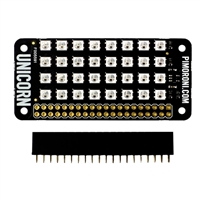 Pimoroni Unicorn pHAT
Usually ships in 1-3 business days.