Pimoroni

Pimoroni Explorer pHAT
Overview
The Explorer pHAT is the perfect prototyping side-kick for your Raspberry Pi! We've added a heap of useful input and output options that will take your projects to the next level. Great for driving motors, using analog sensors, and interfacing with 5V systems (such as many Arduino boards).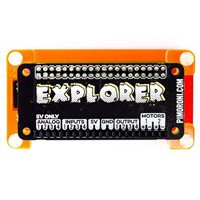 Pimoroni Explorer pHAT
Usually ships in 1-3 business days.