Flashforge

Flashforge Finder 3D Printer
Available for In-Store Pickup Only.

Overview
Fully assembled. No setup. Intelligent assisted leveling system. More precise and easier calibration. 3.5-inch touchscreen panel. Just four taps to start printing.Filament-run-out detection. Always successful output. WiFi Connection. Wirelessly control your printer. Built-in 4G memory storage. Less printing interruption.Slide build plate. Easier 3D prints removal. Sleek and contained design. No heated plate. Safer to use. Noise level as low as 50dB. Quiet to use.
THE NEW FINDER
Getting started in 3D printing with Finder is much easier and more affordable than ever. It is capable of printing right out of the box with few tweaks. All of the heated elements are protected from touch, and the printing material is non-toxic PLA.

Now Finder has access to the upgraded FlashCloud, and supports STL file upload and download. Batch management of the equipment is so easy with FlashCloud. Users can modify the printing speed and temperature in the printing process. Finder is the perfect starter 3D printer for families, schools, as well as novice users.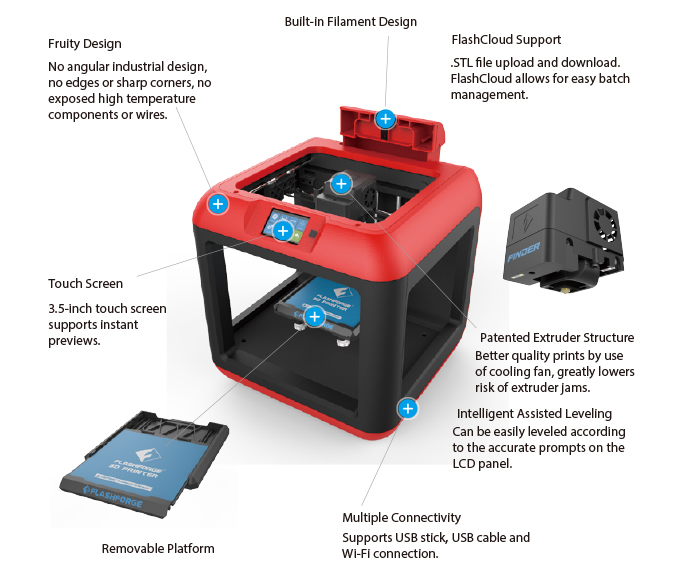 PATENTED EXTRUDER STRUCTURE DESIGN
The patented nozzle structure has been upgraded to improve the surface quality of the print.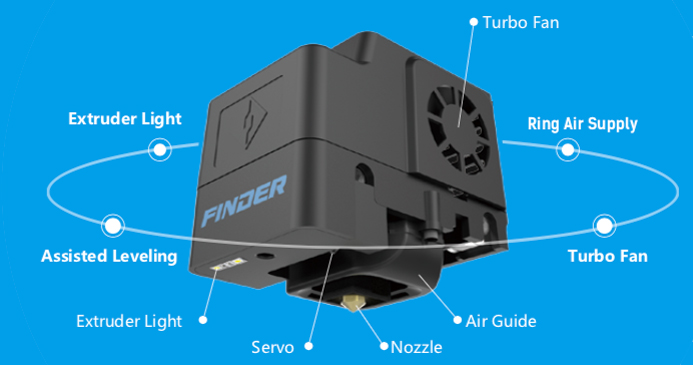 ADDITIONAL FEATURES
The Flashforge Finder 3D printer also offers a number of other features including:
Intelligent Assisted Leveling
Precise leveling can definitely improve printing quality. The accurate distance between platform and nozzle can be detected by Finder leveling servo. Just follow the instructions on the touch screen it's that easy, even for beginners.
Slide-in Build Plate. Easier 3D Print Removal
Slide-in build plate allows you to draw it out of the printer and to remove the finished 3D prints more easily. At same time, it can minimize damage or offsets to the build plate.
Easy To Use Touch Screen
Most operations can be done with touch screen, including preheat, filament load and unload, calibration, change operation language, and so on. Instant review improves work efficiency and effectively. Multilingual operating interface with built-in multiple language packages.Finder supports simplified, traditional Chinese, English, Japanese, German, French, Portuguese, Spanish, and Arabic.
Super Quiet Printing Function
Finder is designed to be super quiet, operating at 50 decibels to provide a quiet printing experience for any environment.
Flashforge Finder 3D Printer
Available for In-Store Pickup Only.