AMD

AMD Wraith Max Cooler with RGB LED
Overview
For PC users who want more: the Wraith MAX is AMDs most powerful air-cooled thermal solution, with LED illumination that can be color-controlled when used with socket AM4 motherboards that support this feature. Not only that, but the Wraith MAX is compatible with legacy AM3 and FM2 sockets, too.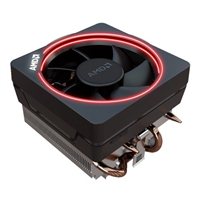 AMD Wraith Max Cooler with RGB LED
Usually ships in 1-3 business days.