LG

LG Super Multi Blue Slim Portable Blu-ray Rewriter with 3D Blu-ray Disc Playback & M-DISC Support
Overview
Enjoy your media on your TVs, digital photo frames and PCs by simply connecting your drive with a USB cable. Provides easy connection with a Micro USB cable. No additional power source needed. The M-DISC uses a patent rock-like recording surface instead of organic dye to etch your data onto a disc. The M-DISC has been tested and proven to outlast standard DVDs currently on the market. The Silent Play technology helps reduce noise during playback by recognizing different multimedia and automatically adjusting the playback speed according to its criteria for optimal performance.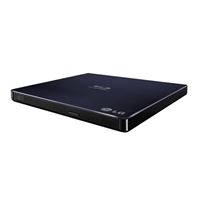 LG Super Multi Blue Slim Portable Blu-ray Rewriter with 3D Blu-ray Disc Playback & M-DISC Support
Usually ships in 1-3 business days.