Inland

Inland 1.75mm Natural Carbon Fiber 3D Printer Filament - 0.5kg Spool (1.1lbs.)
Overview
Inland 3D Carbon Fiber filament. Environmentally friendly, Nylon based. 20% carbon fiber. Print smoothly, odorless with a matte finish printing effect. High strength, high rigidity, good toughness, wear resistant. Appropriate to 3D print industrial parts. Print temperature range of 240-260. Requires a stainless steel nozzle instead of a quick wear bronze nozzle.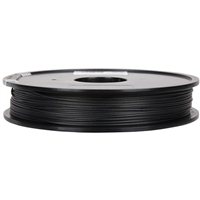 Inland 1.75mm Natural Carbon Fiber 3D Printer Filament - 0.5kg Spool (1.1lbs.)
Usually ships in 1-3 business days.