Intel Intel Compute Stick

Intel Atom Processor 1.44GHz; Microsoft Windows 10 Home; 2GB DDR3L-1333 SDRAM; 32GB Flash Storage
0 NEW IN STOCK at Houston Store

Overview
Intel Atom Processor 1.44GHz
Microsoft Windows 10 Home
2GB DDR3L-1333 SDRAM
32GB Flash Storage
Transform your display into a fully functional computer with the Compute Stick from Intel. This over-sized thumb drive PC offers the performance similar to your other computer and allows you to stream online videos, play games, work on projects, and more. On the inside, it sports a quad-core Intel Atom processor along with 2GB of RAM so you can simultaneously run multiple software programs. It connects to any HDMI-equipped monitor or TV and delivers high-resolution images utilizing integrated Intel HD Graphics. Additionally, it supports multi-channel audio through the same HDMI connection.
---
Eligible for Free Upgrade to Windows 11 when available from Microsoft
This device comes with Windows 10 and is eligible for a free Windows 11 Upgrade. The Windows 11 Upgrade will be delivered online to qualifying devices starting in late 2021 and into 2022. Timing will vary by device. Certain features require specific hardware requirements be met. See Microsoft Windows 11 Specifications and Requirements for additional information.
---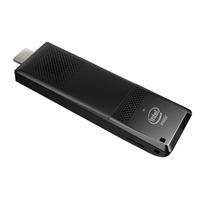 Intel Compute Stick

Intel Atom Processor 1.44GHz; Microsoft Windows 10 Home; 2GB DDR3L-1333 SDRAM; 32GB Flash Storage
0 NEW IN STOCK at Houston Store