Leo Sales Ltd.

Leo Sales Ltd. DC Motor-25 Wheel Kit
Overview
This kit is all about convenience. It has everything you need to have a motorized wheel assemble that is ready to be installed to your projects. All aluminum pieces (rim, motor bracket, terminal block) are extra strength and anodised to prevent corrosion.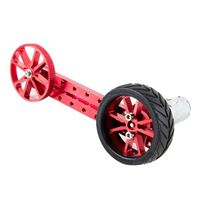 Leo Sales Ltd. DC Motor-25 Wheel Kit
Usually ships in 1-3 business days.